Machine to roll and electronically measure the tissues. It uses lame system integrated dispenser, where it eliminates the introduction of the shaft into the cardboard tube. Compact machine and easy to use, comes equipped with casters. Excellent choice for retailers which require mobility and practicality.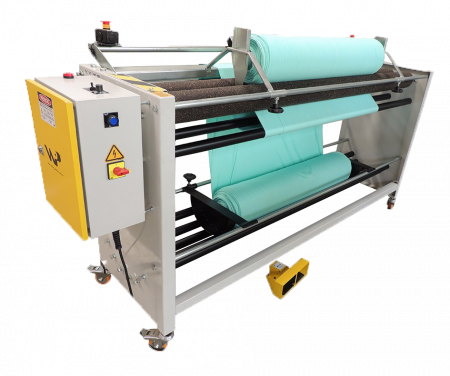 Technical Specifications
Working speed: variable
Electronic counter: CS10 + Exakt pulse generator Atronik
Drive and reverse: standard mobile Pedal NR-12
Frame: Steel
Standard voltage: 220V
Installed power: 03A
Useful width: 1750mm
Dimensions: A = 1280mm x L = 2260mm x P = 600mm
Weight: 120 kg
Color: White
Excellent choice for retailers which require practicality and mobility, industrial textile machine model Y-CPT winds and electronically measures the tissues. Steel structure, is a compact machine and easy to handle and uses lame integrated dispenser system where eliminates the introduction of eixe in cardboard tube.