Special machines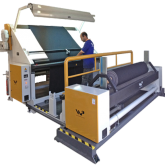 Machine with work platform, to review, measure and pack plans tissues straws, with the margin alignment by optical sensors, tension and compression drivers. Used for large productions....
Read more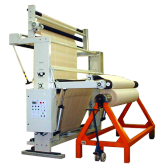 Machine used to pull the tissues directly from the loom or pollard car, reviewing, measuring, aligning and equipping process in rolões cars with diameters up to 1,000 mm....
Read more
Las imágenes son sólo ilustrativas y son propiedad de WALTER PORTEIRO IND. MÁQUINAS, quedando expresamente prohibida su copia y distribución. Puede haber cambios en los colores, estructuras y componentes de los productos de este catálogo sin previo aviso, pero siempre manteniendo sus principales características de funcionamiento. En la finalización del pedido, asegúrese de que el color, modelo, voltaje, ancho de trabajo y accesorios son incluidos en el equipo. Cualquier cambio posterior, estarán condicionadas a aceptar el Walter Porteiro Ind. de máquinas, que pueden incurrir en costos que serán incluidos en el precio de venta original.